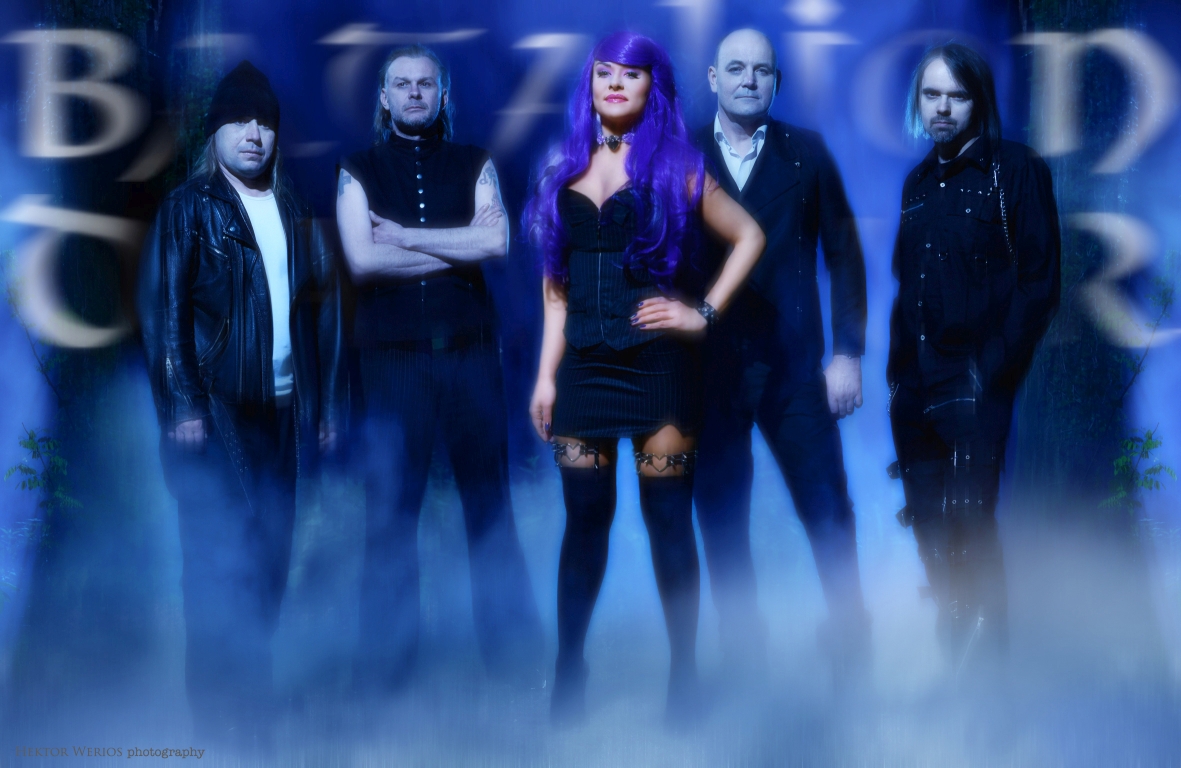 Batalion d'Amour (abbreviated BDA) is a Polish rock band formed in 1989 in Skoczów. The current line-up consists of: Karolina Andrzejewska (vocals, lyrics), Piotr Grzesik (bass, vocals), Robert Kolud (guitars), Mariusz "Pajdo" Pająk (drums) and Mirosław Zając (keyboards).
From the beginning the group was inspired by gothic rock and dark wave, what found the reflection in their music and soon after made them one of the most recognizable gothic rock bands in Poland. Nevertheless, the group never strictly sticked to the one particular music genre. Throughout their musical activity Batalion d'Amour looked for inspiration in various stylistic elements, including rock-metal and progressive rock, mainly due to the contribution of different musicians forming the line-up over years. In 2001 Karolina Andrzejewska, the graduate of Vocal-Acting School in Krakow, a nine-year student of Ballet School in Krakow, the winner and laureate of many singing contests, joined the group and became the vocalist and songwriter of Batalion d'Amour. Since that time the music of the band has been reflecting the fusion of complex vocal melodic lines of Karolina and art rock, still being inspired by gothic and progressive elements. Another thing characteristic for the band is covering Depeche Mode's songs on their albums.
Batalion d'Amour have released 5 original studio albums: "Labirynt Zdarzeń" (Morbid Noizz, 1998), "Dotyk Iluzji" (Metal Mind Records, 1999), "55 Minutes of Love" (Metal Mind Productions, 2000), "W Teatrze Snów" (Metal Mind Productions, 2001), "Niya" (Metal Mind Productions, 2005), of which the last was recorded with Karolina as a new vocalist, the author of most lyrics and vocal melodic lines. The album "Niya" met with positive reaction among fans, successful press tour and good reviews in rock magazines. It was one of best rated albums in Teraz Rock Magazine in the 1st half of the year 2006 (4 out of 5 stars). After the release of "Niya" the band also caught the attention of international festivals organizers and was given the proposal to play at the festival in Mexico with such widely known international star as Anathema. Unfortunately, due to circumstances beyond band's control, Batalion d'Amour could not participate in that event.
A few years after beginning their musical activity, Batalion d'Amour played in Jarocin Festival – one of the biggest rock festivals in Poland. BDA performed many concerts in Poland as well as abroad. They were frequent guests at the Castle Party Festival, the group also appeared on the main stage at Hunterfest Festival in 2006, where they played with international as well as Polish stars such as Amorphis, Decapitated, Fear Factory, TSA, Acid Drinkers etc. BDA went on tours with such bands as Moonlight, Closterkeller, Aion, Wilki. After releasing the album "Niya" the band went on tour to promote their new material. They also took part in the Castle Party Festival in 2006 performing on the main stage among such bands as Delight, The Birthday Massacre and Riverside, which was Karolina's debut at that international event. BDA appeared again at the Castle Party Festival in 2013, where they played with such bands as Splendor, Das Moon and Agressiva 69.
Batalion d'Amour also appeared on the album Tribute to Closterkeller with their version of the song "Ziemia obiecana", which was the compilation released by Alchera Visions titled "Po drugiej stronie lustra – Tribute to Closterkeller" in 2013. The album presented 15 covers recorded by different Polish groups. Batalion d'Amour was promoted as one out of three best groups on the album and as a result their song was aired in Trójka radio station.
During the last two years Batalion d'Amour intensified their work on the 6th full-length album. It will be the second one with Karolina Andrzejewska as the vocalist and will be released in autumn by the German label Echozone, which includes in its catalogue such artists as THE MISSION, IKON, !distain, Wayne Hussey and many more. The album will be distributed worldwide as well as promoted in Europe. It will be an international debut of Batalion d'Amour.  In Poland CDs will be distributed by Sonic Records – the sole distributor of Adele in Poland.
Batalion d'Amour is now preparing for the concerts promoting the new album.